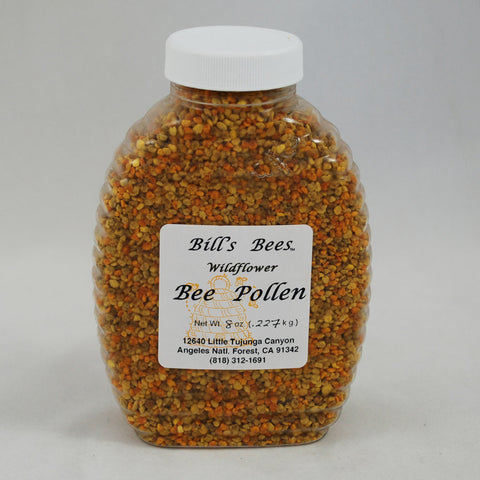 Bee Pollen
Bill's Bees 100% Bee Pollen is gathered by our honey bees foraging on native wildflowers in the San Gabriel Mountains of Los Angeles County. The colors of the pollen granules vary depending on the flowers in bloom at the time of harvest. The bees collect the pollen from wildflowers, so there is no threat of fertilizers or pesticides in the pollen. The pollen is collected straight from the hive then frozen in a sealed container to retain its soft texture with a flavor that melts in your mouth. 100% bee pollen with no additives or preservatives. Enjoy on cereal or yogurt with your morning coffee or tea.
Ingredients: Bee Pollen

Our bee pollen is fresh and so it must be refrigerated (it is not freeze dried like you might be used to from a health food store). Bee Pollen is only available for purchase at our Farmers Market locations. We keep the pollen cold in a cooler until your purchase.  We apologize, but it is not available for purchase online. Thank you!