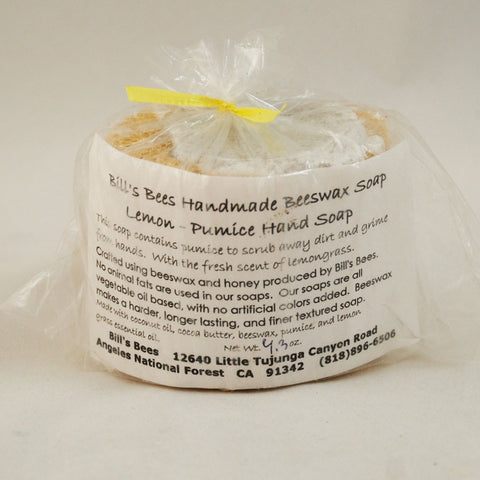 Lemon Pumice Soap Filled Loofah
Pumice scrubs away dirt and grime from your hands and lemongrass gives them a fresh lemony scent.
Bill's Bees Handmade Beeswax Soap Filled Loofahs are simply loofah gourd sponges that are cut to a comfortable size to fit your hand and then filled with our handmade beeswax soap. No animal fats are used in our soaps. Our soaps are all vegetable oil based, with no artificial colors. Beeswax makes a harder, longer lasting, finer textured soap with an especially rich lather. Just get the loofah wet in the shower and enjoy a soapy scrub! Weight approx. 3.5 - 5.5 oz.
Ingredients: coconut oil, cocoa butter, beeswax, pumice, and lemongrass essential oil.
  *If you place a large order we will contact you with an estimated delivery date as our soaps are hand crafted in small batches. Thank you for your patience!
sold out after the holidays...please check back in mid to late February
---
We Also Recommend