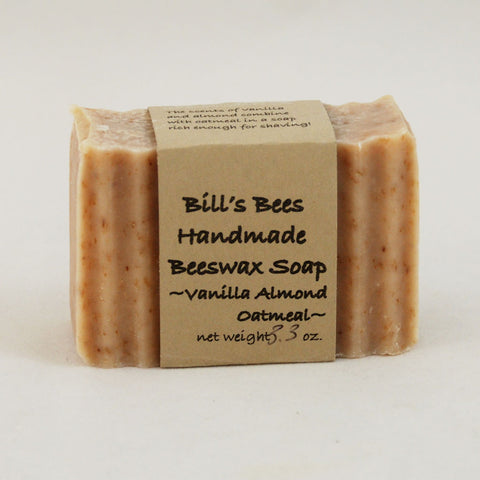 Vanilla Almond Oatmeal Handmade Beeswax Soap Bar
100% Beeswax Handmade Soap. The warm scents of vanilla and almond combine with powdered oats to create a wonderful soap. Made with an abundance of sweet almond oil, the creamy lather is rich enough for shaving while the oatmeal is soothing to dry, irritated skin. Crafted using beeswax and honey produced by Bill's Bees. No animal fats are used in our soaps. Our soaps are all vegetable oil based, with no artificial colors. Beeswax makes a harder, longer lasting, and finer textured soap. This is old fashioned handmade cold process soap, retaining skin soothing glycerin which is created during the soap making reaction. Bill's Bees Handmade Beeswax Soap is completely hand crafted in small 30 bar batches. Weight approx. 3oz.
Ingredients: soybean, cottonseed, coconut, sweet almond oils; beeswax; oatmeal; vanilla fragrance oil; oil of bitter almonds. 
  *If you place a large order we will contact you with an estimated delivery date as our soaps are hand crafted in small batches. Thank you for your patience!
---
We Also Recommend