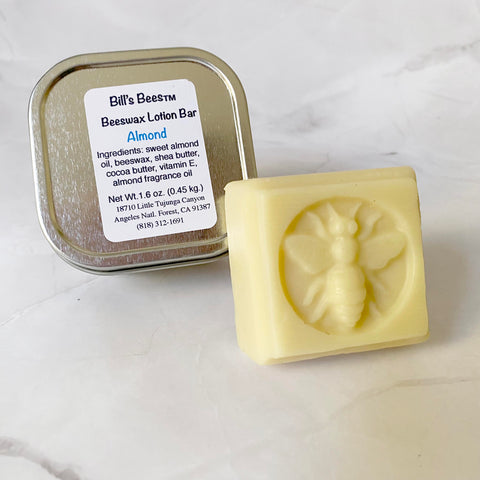 Almond Beeswax Lotion Bar
Bill's Bees Handmade Beeswax Almond Lotion Bars are made with sweet almond oil, beeswax, cocoa butter, shea butter, and bitter almond oil. Vitamin E oil is added for extra skin nourishment, and also acts as a natural preservative. There are no artificial preservatives or antibacterial agents in the lotion bars - many people are very sensitive to those artificial ingredients and find that our lotion bars are extremely soothing and non-irritating. Our almond lotion bars are scented with a fragrance oil (so it is an artificial scent). Our Handmade Beeswax Lotion Bars are hand crafted in small 18 bar batches on Bill's Bees bee farm. Weight approx. 1.5 oz.
Ingredients: sweet almond oil, beeswax, shea butter, cocoa butter, Vitamin E, and bitter almond oil. 
NOTE:  Lotion bars have a low melting temperature, which is why they are so nice on your skin.  But that quality makes them difficult to ship in the warmer months, as they could deform.  From April through the end of October, ordering lotion bars that will be shipped is at your own risk. 
*All lotion bars are handmade products. Please allow up to 1 week to fulfill. Thank you for your patience. 
---
We Also Recommend